Proprietary Software & Engineering Solutions
TES' dynamic, interpretive tools and features span the wireless spectrum, from engineering through post modification inspections (PMI). Our tools automate, simplify, include intelligence and integrate best processes in a creative and effective manner around our customer's needs. Our software expertise enables us to customize a customer-specific program and to integrate with the tools our customers are currently using, allowing for a seamless transfer of information into the TES proprietary database.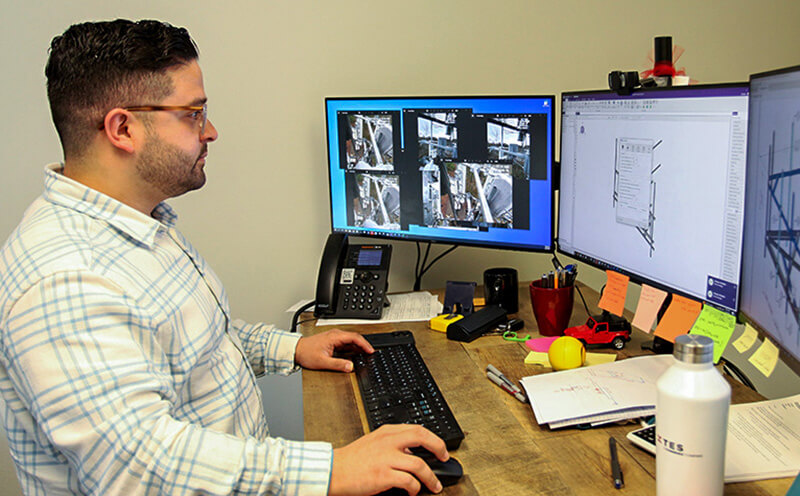 Tower & Pole Programs 
Thorough assessment of all aspects of a tower, including the structural members, anchors, connections, and foundations are assessed. If the analysis determines that a tower is over capacity, the engineer recommends what tower modifications are needed to alter/add new equipment. TES retains the structural model and antenna loading in its SMART Tool, which is designed to store and query large amounts of data.
Mount Program & Process
OPEX & Time Savings: TES' mount program allows tower owners to modify the majority of failing mounts versus a full mount replacement. Carriers don't risk being off-air and don't incur the impact of higher costs and a longer cycle time. Additionally, the L&A contractor time on site is minimized, given that our dedicated team of engineers can support field crews almost instantly.
TES' full suite of services includes Mapping, Analysis, Modification Design Drawings and Post Modification Inspections. All data and activity are encapsulated within our SMART Tool.
Construction Management Portal 
Maximize Effectiveness & Productivity: The TES construction portal allows us to receive bid documents, submit quotes, enter schedules, and submit close-out documentation. TES' customers can be automatically notified of schedules, status changes, and completion of the SOW. At the close of the project, TES can perform Post Mod Inspections.
Inspection App & Tools 
Know Your Assets: TES' nationwide team of experienced field personnel coupled with the best maintenance tool in the industry, put you in the best position to understand what is happening on your valuable assets. TES has helped its clients eliminate millions of dollars of unnecessary spending on maintenance and condition assessments. Whether identified through inspection or the impact of weather-related events, TES can provide and implement remediation solutions.
Our state-of-the-art web-based Maintenance Field App, with portal access, allows third-party vendors to capture data, identify capital and maintenance requirements and report back electronically. Not only do our customers have real-time knowledge but it also allows them to authorize minor maintenance at the time of the inspection. The App also streamlines the process for contractors to bid on maintenance projects and plan their work. Additionally, the App supports the marketing of the assets, given that free space on the structure and compound has been confirmed.
TES' assessment services include Climbing Assessments, UAS Assessments and use of our PII/PMI processes to extend assessment cycles.
Get in touch
"*" indicates required fields