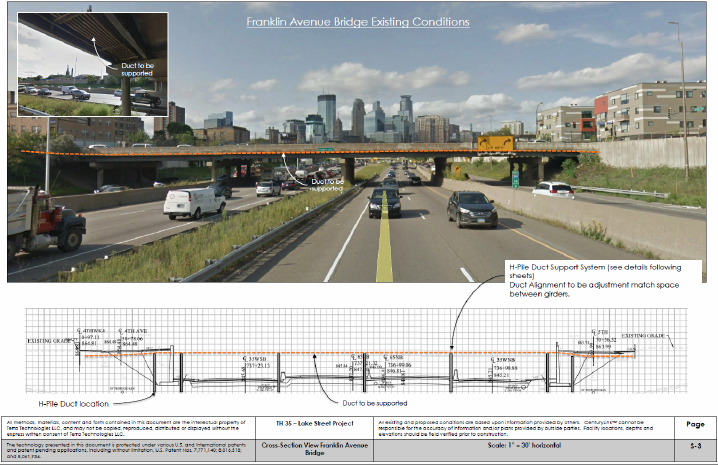 In 2016, MNDOT began the design and engineering process to replace the existing E. Franklin Avenue bridge carrying traffic and pedestrians over the TH 35W corridor as part of their overall TH 35W improvement program.   This multi-year project $240 Million project seeks to improve the corridor infrastructure and improve overall accessibility and mobility throughout the corridor. 
Located on this bridge is an existing CenturyLink 16-duct structure carrying critical telecommunications facilities to the Minneapolis metropolitan businesses, government agencies and residents.   
Demolition and replacement of the bridge was planned for 2017, and in 2016, CenturyLink and MNDOT were faced with a complex directional bore to replace this facility to allow for the demolition and replacement of the bridge. The directional bore replacement option created numerous challenges, including the sourcing of new copper and fiber plant, performing a deep bore in an crowded underground urban environment and splicing of the facilities and potential downtime and loss of service. Of equal importance and challenge; the directional bore, replacement and re-splicing of the facilities would take months and would not meet the overall project schedule.
In November 2016, MNDOT, CenturyLink and Terra Technologies explored a creative alternative to support the CenturyLink facilities in place during the demolition and construction of the new E. Franklin Avenue Bridge.   This plan sought to not only maintain service and facilities, but to also place it an adjusted position horizontally and vertically so that it could be attached to new the bridge. This solution not only met the project schedule, but it reduced significantly both costs and risks to MNDOT and CenturyLink.  Through dedicated and open collaboration and engineering, this solution was incorporated into the aggressive project and is now underway.
The images that follow are the chronological events and project milestones of the in-progress work efforts.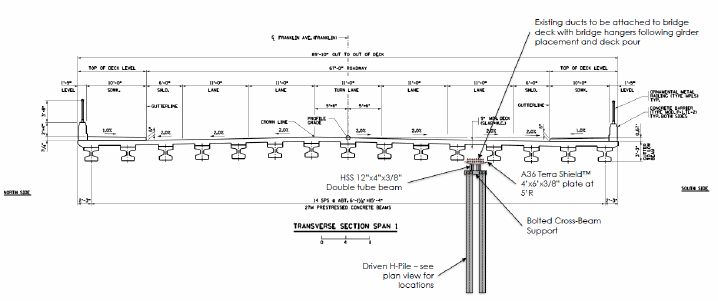 Intellectual Property Statement and Disclaimer
All materials, content and form contained in this pictorial are the intellectual property of Terra Technologies LLC, and may not be copied, reproduced, distributed, or displayed without the express written permission of Terra Technologies LLC.
The technology presented in this pictorial is protected under various U.S. and international patents and pending patent applications, including without limitation, U.S. Patent Nos. 7,771,140; 8,016, 518; and 8,061,934.
Terra Technologies, LLC does not warrant, either expressly or implied, the accuracy, timeliness, or appropriateness of the information contained in this pictorial.  Terra Technologies LLC disclaims any responsibility for content errors and omissions, and disclaims any responsibility associated with relying on the information provided in this pictorial.